The low-cost, reliable, CE-compliant line of Optima curing conveyors may not include all the popular high-end features found on other American Ultraviolet curing conveyors, but they're optimal for curing POP material, and for curing UV coatings on flat, lightweight wood sheets. Important add-ons include a hinged, quick-change lamp assembly cover and modular frame rails for simplified installation.
Standard Features
5-160 FPM variable speed belt
32, 60 and 80" cure widths
Vacuum hold-down
Hinged lamp assembly cover for fast, easy lamp changes
208, 230, 460V/60Hz operation
To learn more about the Optima Curing System, including technical specifications, please visit our technical library where you can download and print literature.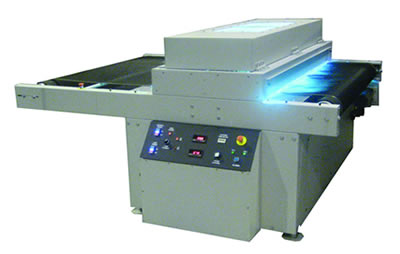 The Optima series cures at widths of 32, 60 and 80 inches, is CE-compliant, and includes standard features like a vacuum hold-down, UV-resistant conveyor belt and light shields, an integrated exhaust blower, and four emergency stop buttons. The variable belt speed is 5-160FPM and the Optima series of conveyors operate at 208, 230, 460V/60 Hz with an option of 380, 415V/50-60Hz.