60 Minutes: Indoor air systems "absolutely key" in curbing spread of viruses
---
Take the IAQ Survey for a chance to win $100! The drawing will be held on December 15. Five drawing winners will each receive a $100 VISA Gift card for taking the survey. One (1) entry per person. No purchase is necessary. No employees of American Ultraviolet can win a Gift Card.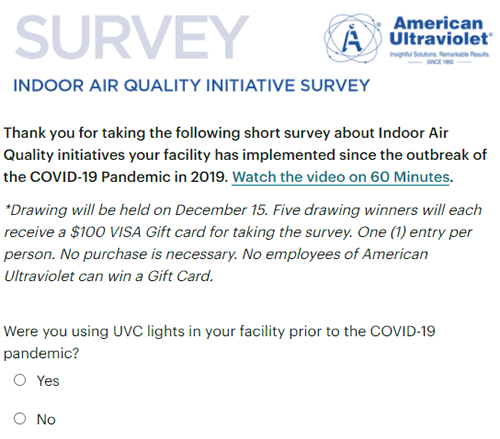 ---
On October 29, 2023, 60 Minutes on CBS featured a story highlighting the importance of improving Indoor Air Quality (IAQ), stating – indoor air systems "absolutely key" in curbing the spread of viruses.
The feature story also includes - "With COVID an ongoing concern and flu season getting started, aerosol researchers say there needs to be a focus on improving the quality of the air we all breathe while inside.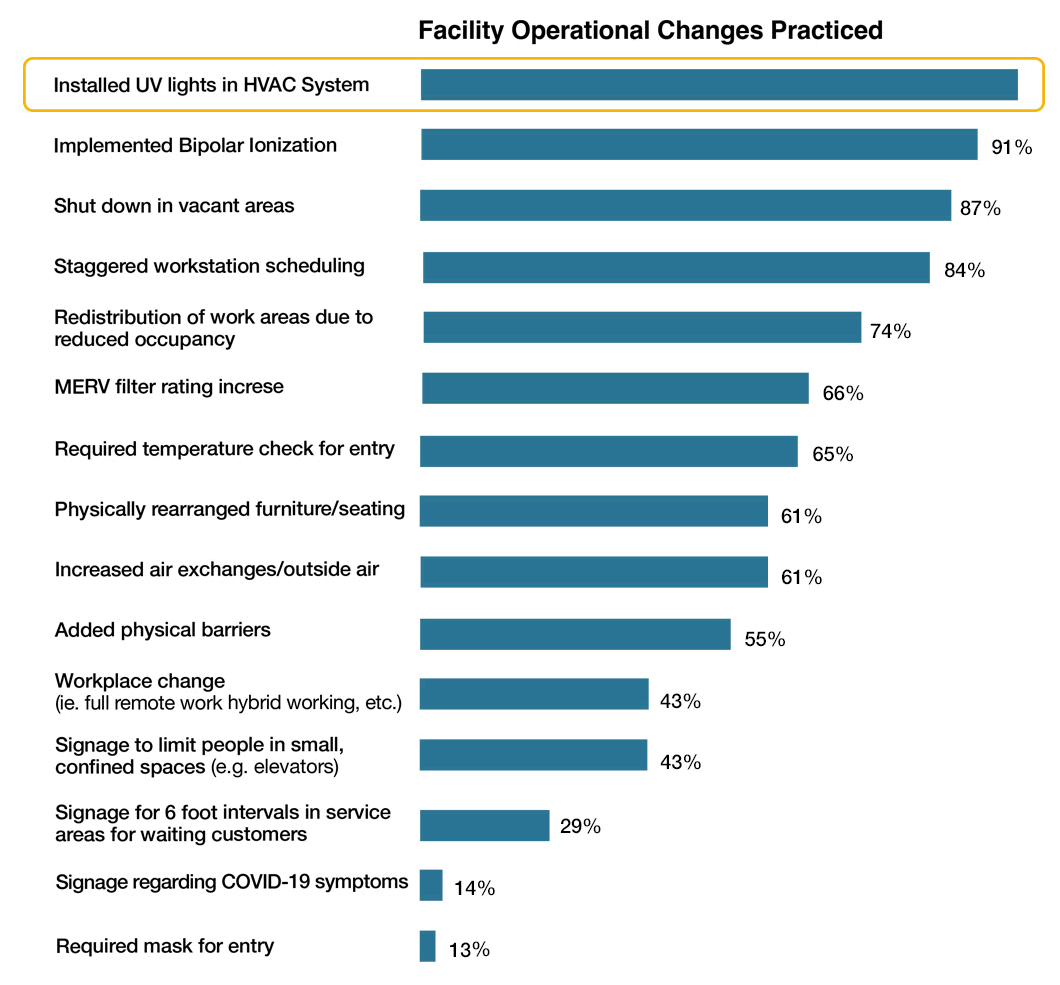 This chart was also included, and comes from a study conducted by the International Facility Management Association called – North America Operations and Maintenance Benchmarking Report 2022 – which indicated that since March 2020 many facility professionals had to adapt to and implement a myriad of changes because of the COVID-19 pandemic. Respondents were asked to provide insights on changes made to facility operations. The chart shows the percentage of respondents who implements various practices (N = 786). The leading practice that was changed was the installation of UVC lights in HVAC systems.

Has your company invested in UVC technology to improve IAQ? American Ultraviolet welcomes the opportunity to help you learn more about the many benefits of this practice. Learn more about our many IAQ solutions.
---
Visit the Disinfection Update E-newsletter archives (which begin with March 2020) to read helpful stories about the effectiveness of UVC Disinfection.
---
None of the American Ultraviolet UVC products detailed above are certified, or approved under any applicable laws, as a medical device, and as such, American Ultraviolet, and its Representatives and Distributors, do not currently intend for them to be used as medical devices anywhere globally. Products have not been evaluated by the FDA.
---