TB, RAM, CM and ICR Upper-Air Series in-room air treatment fixtures are designed specifically for continuous upper air UVC irradiation that helps decontaminate the environment around the patient. These trusted fixtures have been successfully used to control the spread of airborne microorganisms and bio-aerosols in hospitals, prisons, clinics and government buildings since 1960. The fixtures incorporate adjustable louvers that safely direct UVC energy above contact level (7+ feet) with occupants, ensuring TB/RAM/CM/ICR fixtures disinfect the air in occupied rooms.
TB Upper-Air Series
The TB Upper-Air Series is available in three sizes (providing 100, 200 and 300 square feet of coverage), and operate from 110-277 VAC at 50 or 60 Hz, allowing installation flexibility to accommodate virtually any room or building layout. Multiple fixtures can be used to cover areas larger than 300 square feet. TB Upper-Air Series fixtures are designed for easy access lamp changes (simply unscrew two thumbscrews on the sides and drop the hinged louver down for easy lamp access). TB Upper-Air Series lamps are rated for two-year continuous operational life with approximately 20% drop in UVC output at end of lamp life.
RAM Upper-Air Series
The RAM Upper-Air Series features dual lamp configurations with fan motors pulling the air through the stainless steel housing. This fixture is available in two high output lamp sizes (14" or 36"), with two voltage options (115 or 230VAC), allowing installation flexibility to accommodate virtually any room or building layout. RAM Series fixtures are also designed for easy access lamp changes (simply unlatch the cover). RAM Series lamps are rated for two-year continuous operational life with approximately 20% drop in UVC output at end of lamp life.
CM 15 Upper-Air Corner Mount Series
CM 15 Upper-Air units are designed to mount in corners of rooms where TB Series units are not desirable. A single CM 15 unit can cover 75-100 square feet, depending on the application. The CM 15 is easily accessed for lamp replacement (simply remove a single fastener on the top of the unit and slide off the louver). CM 15 lamps are rated for 9 ,000 hours effective lamp life (approximately one-year ).
Benefits
Improves Indoor Air Quality (IAQ) by reducing bacteria, viruses and fungi, therefore minimizing the risk of cold, flu, allergies and other illnesses
Two-year (17,000 hour) guarantee on lamps with only 20% decrease in output over the two years (9,000 hours on CM 15 lamps)
Five-year, non-prorated warranty on the ballasts
Continuously clean upper air in rooms, reducing airborne and/or bio-aerosol transmission of bacteria, viruses, and fungi
Produce no ozone or other secondary contaminants.
---
Infection Control Rack (ICR) Series Fixtures
High-output ICR Series fixtures from American Ultraviolet are designed specifically for high-volume airstream disinfection applications. They are ideal for large air handling systems in commercial, industrial, healthcare and institutional buildings. These ready to install framed structures can be easily mounted in duct systems and on coils to provide the desired airstream disinfection to protect personnel from unwanted bacteria, viruses or fungi travelling in the airstream.
ICR Series fixtures not only decontaminate air, but they also use UVC cleansing energy to remove biofilms from cooling coils and drain pans. The High-output ICR Series can be mounted within minutes to plenum walls, or to frame assemblies that span supply ducts and/or cooling coils. These fixtures are offered in various lamp configurations and come standard in five different widths (18", 24", 36", 48", & 60"). Frames can be mounted side by side, or stacked vertically to cover the entire plenum or coil.
Benefits
Reduce bacteria, viruses and fungi with one pass through ICR
Each system is custom sized to individual duct and desired microbial reduction rate at no additional charge; reduction rates up to 99.9 % (dependent upon microbe)
Installs in minutes; comes with preassembled frame structure that easily attaches to plenum wall
Installation down-stream offers removal or prevention of biofilm build-ups on cooling coil; and restores coil back to optimum heat transfer properties
"Green" lamps contain ≤ 8mg of Mercury
Exclusive 2-year (17,000 hours) guarantee on high output lamp life
No maintenance required, other than changing lamps every 2 years
Specifications
Each assembly includes fully wired and enclosed power supply, electronic ballast(s), frame assembly, lamp holders, and high output lamp(s)
"Moisture-Proof" construction incorporates a moisture proof wire lead connector assembly
High-output (800ma), green lamps (≤ 8mg mercury)
Lamps produce no ozone or other secondary contaminants
---
To learn more about TB, RAM, CM and ICR Series fixtures, including technical specifications, please visit our technical library where you can download and print literature.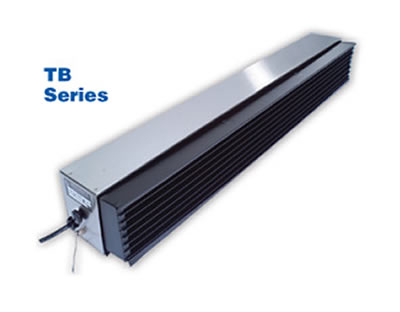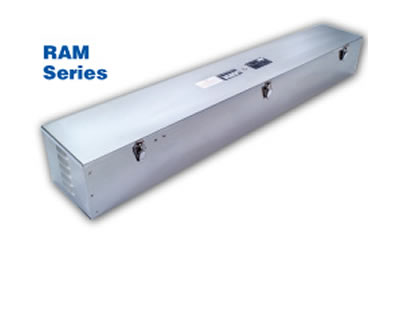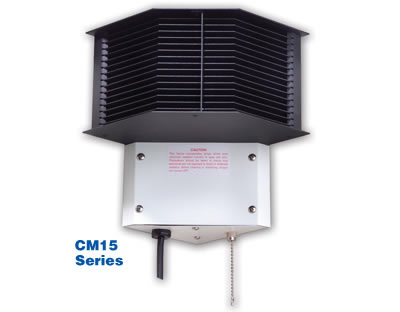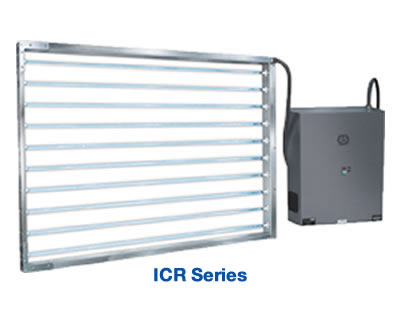 Example of ICR In-Duct Disinfection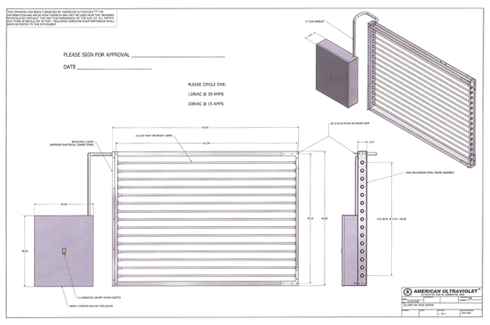 ---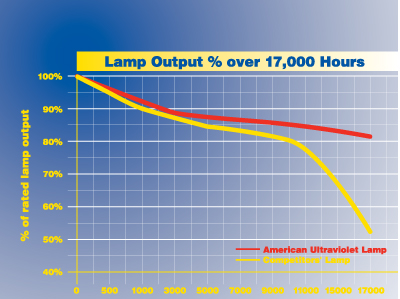 Prolonged, direct exposure to UVC light can cause temporary skin redness and eye irritation, but does not cause skin cancer or cataracts. American Ultraviolet systems are designed with safety in mind and, when properly installed by a professional contractor, do not allow exposure to UV irradiation and allow for safe operation and maintenance.