10" Touchscreen Controller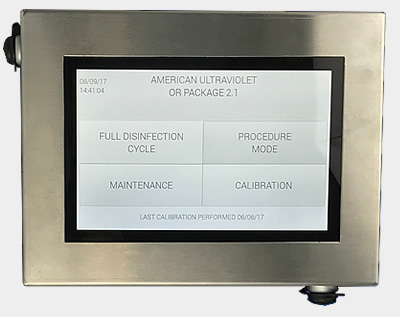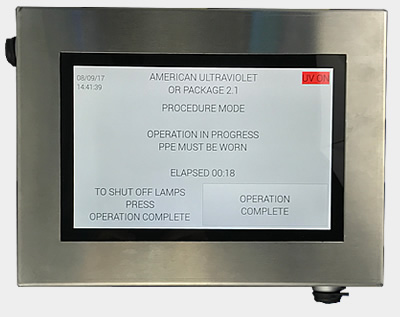 The OR-CCU is the brain of the American Ultraviolet Operating Room Package.
Constantly communicates with all UV germicidal fixtures in the Operating Room
Built-in safety features
Procedure and disinfection modes

Procedure mode

Used during orthopedic surgery
Reduced intensity; untimed cycle
Reduces post-op infection rates

Disinfection mode

Used before and/or after procedures
Full intensity; timed cycle
Can run daily preprogrammed cycle

All cycle data is saved to the onboard hard drive and is available for staff review. Data can also be downloaded via the USB port on the bottom of the CCU. The Intelligent controller records:

Date
Time
Case ID #
Cycle type
UVC intensity levels
Fixture functionality
System performance data
---
Direct Surface Mounted Fixtures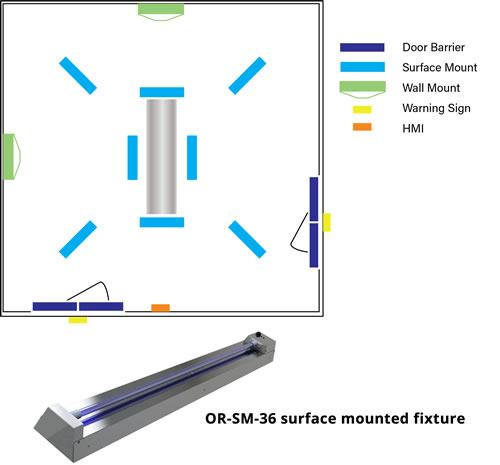 OR-SM-36 fixtures are direct UVC germicidal fixtures used for surface and wound site disinfection before, during, and after the procedure, making the American Ultraviolet OR Package a very smart choice for Operating Room disinfection.

Lowered intensity during orthopedic procedures
Full power during disinfection cycles and before and after procedures
Preset daily timed disinfection cycles
The advantage of using ceiling mounted ultraviolet light fixtures in the OR, rather than a mobile device, is that the fixtures can be spaced out to create a more consistent pattern of energy - more angles provides better coverage.
A typical installation will have 8-10 OR-SM-36 surface mounted fixtures on the ceiling:

Four (4) fixtures mounted above the table: two parallel to the sides & two parallel to the head and foot
Remaining fixtures evenly spaced around the Operating Room for consistent energy distribution
The goal of this configuration is to lay down an even energy footprint that floods the room with UV disinfection light and eliminates, and minimizes, any shadow areas. Mobile units currently on the market are limited in their energy footprint, and they also require multiple positions in order to have a similar impact.
---
Indirect Wall Mounted Fixtures
OR-WM-36 UVC germicidal fixtures confine UVC rays to a narrow beam, directed across the upper portion of the room, for upper air treatment. Beam width and height are controlled with louvers that create a powerful, concentrated beam of germicidal UVC energy, resulting in maximum intensity and increased safety.
Installed on adjacent walls at least 7½ - 8 feet off of the floor.
Create a high-intensity intersection of energy in the upper portion of the room, above the table, to enhance the laminar flow system.
Indirect style fixtures are designed for upper air irradiation and are left at full power during use.
Lamps and louvers easily removable for maintenance.
---
Door Barrier Fixtures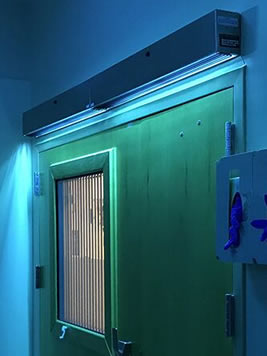 OR-DB fixtures confine UVC rays to a narrow beam, creating a "curtain" of energy in all doorways. Beam width and height are controlled with louvers that create a powerful, concentrated beam of germicidal UVC energy, resulting in maximum intensity and increased safety.
Installed above all doorways in operating theater.
Staff entering or exiting the space during the procedure will pass through the UV barrier, which will provide a high intensity dose of UVC, adding to the cumulative levels achieved while in the space.
Wider doorways can be equipped with multiple units, mounted in tandem, to span the entire width of the passage.
Available in 24" and 36" fixture widths to accommodate typical doorway sizes found in operating rooms.
Lamps and louvers easily removable for maintenance.
---
UVC Radiometer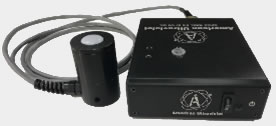 The NIST-traceable Radiometer is used to calibrate the proper level of UVC energy when fixtures are in use during a procedure; and to ensure overall proper system operation. The user simply positions the radiometer on the table, pushes a button on the controller - the system takes over and runs a full calibration cycle entirely by itself. All performance data, and energy levels, are recorded and stored on the hard drive inside the controller. When the procedure mode is selected the surface mount, or direct mount units will automatically emit the proper reduced level of energy; when the disinfection mode is selected all fixtures, including the direct units, ramp up to 100% of power in order to provide the highest intensity for the shortest cycle times. American Ultraviolet currently recommends to periodically perform a calibration cycle, which typically takes 10-15 minutes (no staff is required to be present during this time).
---
UV In Use Warning Signs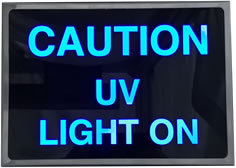 OR-SIGN safety signs that come with the OR Package are illuminated warning signs designed to alert personnel entering the operating theater that direct UV disinfection light is being used inside the room. Any time the UV fixtures in the room are energized, the warning sign(s) illuminate with a "CAUTION UV LIGHT ON" message.
Mounted outside the OR next to or above all of the doors
Any lamps lit = warning signs illuminated
In addition to this bold visual indicator, each and every UVC fixture in the room is an "intelligent" fixture with its own Motion + IR sensor. If any fixture were to "see" motion or sense heat in the space during a full disinfection cycle, all of the fixtures will immediately shut down, and the fault will be recorded as part of the data logging.
Motion + IR sensors are active in the Disinfection Cycle modes (both manually initiated and timed cycles)
Motion + IR sensors are deactivated in the Procedure mode as the room is occupied.
In either mode, when the lamps are lit, the warning sign(s) will be illuminated.
---
Safety Face Shields
American Ultraviolet provides one dozen UV-resistant, optically-clear, full face shields with each Operating Room Package. When used in conjunction with a head sock, this piece of PPE provides complete coverage for the head and neck.
As with all ultraviolet equipment, PPE such as protective clothing and eyewear are required when UV exposure is possible. Personnel should never look directly into any of the fixtures without proper eye protection.
---
Staff Training
Full staff training from a qualified, experienced trainer about proper usage and maintenance is included with the American Ultraviolet OR Package. A comprehensive Operation & Maintenance Manual is also provided with each package. Though the OR Package is user-friendly, you can be certain we remain committed to making sure all of your users are comfortable with how to operate and maintain the OR Package
---
To learn more about the OR Package, and other healthcare products from American Ultraviolet that will help reduce the spread of HAI's and SSI's, please visit our technical library where you can download and print literature.