Healthcare facilities, unfortunately, are a great breeding ground for infections. Sick people and their caregivers, including many with suppressed immune systems, are often grouped together in close quarters, making them highly susceptible to community-acquired infections. Healthcare facilities worldwide must therefore be cognizant of these "flashpoints of infection," which include:
Common areas where people gather and then disperse;
Areas used repeatedly by infected hosts;
Equipment used to treat/transport/house infected hosts;
Air circulating, and re-circulating, throughout facilities that is shared by infected hosts, staff, and other occupants;
Each flashpoint needs specific attention designed to mitigate the risk of infection. American Ultraviolet provides the necessary disinfection solutions for each flashpoint with our custom designed, and unique "Four Pillars of UVC Disinfection for Healthcare" program.
Healthcare-associated infections continue to trouble the healthcare industry. The Centers for Disease Control and Prevention estimates one in 20 patients will contract an HAI every day, and some estimates suggest the economic burden of HAIs reach $35.7 billion a year. To help reduce the spread of infection, and associated costs, healthcare facilities worldwide are using ultraviolet disinfection at all "flashpoints of infection."
Learn more about how UVC technology works.
---

Pillar One – Upper Air
History has taught us that common areas where people gather and disperse, whether inside or outside a facility, have proven to be perfect breeding grounds for infections. The first instance of an H1N1 pandemic broke out on the battlefields of World War I, with the disease spreading quickly, and ushered along even faster because of the close living quarters of troops.

Today, Tuberculosis (TB) remains a severe, contagious disease that primarily affects the lungs.   It is usually transmitted from person to person via airborne particles that contain TB bacteria. One of the major concerns for healthcare workers is the potential for transmission of TB, and many other airborne pathogens, at worksites from undiagnosed or unsuspected cases. Upper-room ultraviolet germicidal irradiation (UVGI) systems are considered a supplement, or adjunct, to other airborne infection-control measures (e.g., ventilation), in settings where persons with undiagnosed airborne-transmittable diseases could potentially contaminate the air (e.g. waiting rooms, emergency rooms, exam rooms, patient in-take areas, common areas, and all flashpoints of disinfection).
The first American Ultraviolet pillar of our "Four Pillars of UVC Disinfection for Healthcare" is the Upper Air disinfection unit. These units provide a blanket of protection over waiting rooms, emergency rooms, exam rooms, patient in-take areas, common areas, and other "flashpoints" where infected hosts can spread the contamination. 
Learn more about environmental control for TB (and other airborne contagious pathogens) utilizing UVC technology.
---

Pillar Two – Mobile Room Surface Disinfection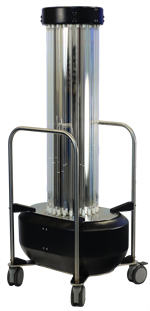 The Centers for Disease Control (CDC) estimates HAIs account for 1.7 million infections, annually, in American hospitals alone (patientcarelink.org). Hospital patient rooms, recovery rooms, operating rooms, triage rooms, and any other locations in a healthcare facility that are used repeatedly to house infected hosts, are known to be "flashpoints of infections" from person to person. Patients in healthcare setting are at increased risk of HAIs from exposure to organisms that are transmitted between patients and healthcare workers. And surfaces in areas touched by infected hosts can leave infectious residue alive, and waiting to latch on to, and incubate, in new hosts. This process will continue infecting unsuspecting patients, and healthcare staff. 
The second American Ultraviolet pillar from our "Four Pillars of UVC Disinfection for Healthcare" is the ARTZ 2.0® Mobile Room Disinfection Unit. American Ultraviolet has designed the ARTZ 2.0 (Automatically Reliably Targeting Zero) unit with the goal of targeting zero infections in the environment around the patient.
Learn more about the ARTZ 2.0, and other mobile units from American Ultraviolet that are designed to prevent the spread of HAIs and SSIs.
---

Pillar Three – HVAC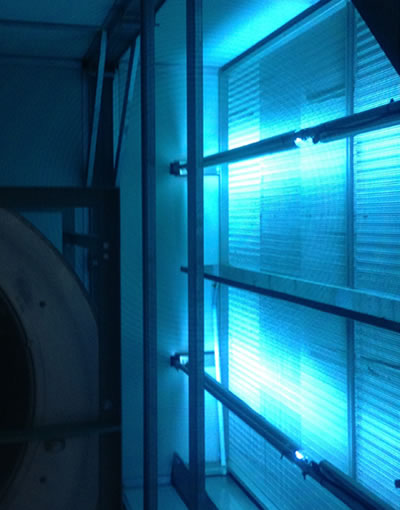 Unchecked, contaminated air circulating, and re-circulating, through a healthcare facility can be another prime "flashpoint of infection." Though HVAC systems include all of the equipment used to ventilate, heat/cool, and humidify/dehumidify, most do not address the disinfection of the air in a healthcare facility. Improper operation and maintenance of an HVAC system is one of the most common problems that impact workplace indoor air quality (IAQ).
The third American Ultraviolet pillar from our "Four Pillars of UVC Disinfection for Healthcare" consists of equipment that disinfects critical air streams circulating, and re-circulating, throughout healthcare facilities. Infectious airborne microbiological agents, too small to be captured by filtration, can be disinfected as they pass through the "blanket of UVC energy" provided by American Ultraviolet's UVC designs.
Learn more about the performance of UVC for moving air stream applications. Visit page S-3 for verification results, including inactivation efficiency
---

Pillar Four – Operating Room Suites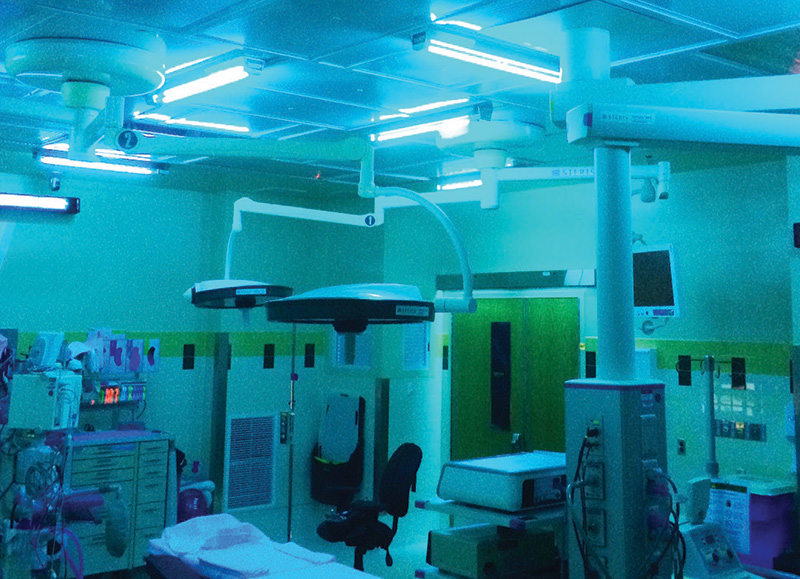 Surgical site infection (SSI) - defined by the Centers for Disease Control and Prevention (CDC) as "an infection related to an operative procedure that occurs at or near the surgical incision within 30 days of the procedure, or within 90 days if prosthetic material is implanted at surgery," is among the most common preventable complication after surgery. SSIs occur in 2% to 4% of all patients undergoing inpatient surgical procedures. They are also the leading cause of readmissions to the hospital following surgery. Approximately 3% of patients who contract an SSI will die as a consequence (ahrq.gov).
The fourth American Ultraviolet pillar of our "Four Pillars of UVC Disinfection for Healthcare," is the UVC OR Package, which is designed to combat this preventable complication. The OR Package consists of a variety of permanently mounted fixtures that can be retrofitted to an existing OR Suite. The system is computer controlled, and designed to be utilized for entire room disinfection before, after, and in between surgeries; and also for use during surgeries.
Learn more about the impact you can expect from using the UVC OR Package from American Ultraviolet by reviewing a white paper from the Journal of Bone and Joint Surgery.
---
The American Ultraviolet Four Pillars of UVC Disinfection for Healthcare approach looks at the entire facility, and the main vectors of transmission for pathogens. As part of our efforts to provide a complete disinfection solution for healthcare, we also offer companion products to facilitate the implementation of a proper UVC disinfection program.
Our line of Four Pillars companion products includes:
Surface/Portable UVC
The UVC Blade is a handheld, portable, UVC disinfection device designed to deactivate bacteria, viruses and fungi in spaces where hard-mounted UVC fixtures are inconvenient to be mounted, and where portable devices have listed access. It is ideal for handrails, toilet surfaces, sinks, cell phones, chairs, door knows, bed rails, tray tables and more.
UVC dosimeter for dosage verification of our mobile units, and UVC OR package - the UVC Dosimeter is our newest addition, and it provides the staff with a visual indication that the target surface has received the proper level of energy to deactivate pathogens of concern in healthcare settings. These inexpensive and easy-to use-indicators provide our clients with an added layer of assurance when using UVC technology.
UVC systems for water disinfection - self-contained systems in sizes from ½ gallon per minute high purity units for laboratory and point-of-use applications, to 1,000 gallon per minute units that handle the whole incoming water supply to the facility.  Contact us about our UVC water disinfection systems for healthcare.