The words of Eric Toner (Sr. Scholar at the Johns Hopkins Center for Health Security in an article for CIDRAP) may seem ominous, but they are spot on in light of the recent coronavirus outbreak and the potential risk to our brave healthcare professionals.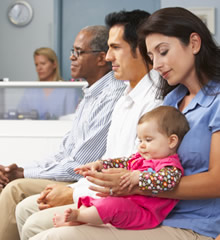 The potential high-risk area is at the patient intake and waiting area. At this point the client is a question mark and their status is undetermined. In a common area like this many microorganisms (influenza, TB etc.) become aerosolized and spread throughout the space. How can healthcare facilities prepare?
Employ multiple interventions. Availability of proper masks and respirators (PPE); signage to educate the patient on symptoms; enhanced cleaning protocols, including the addition of ultraviolet equipment for air and surface disinfection. Shortwave UV energy (UVC) has been proven to be an effective adjunct against many microorganisms when used with the standard and enhanced cleaning protocols. Upper air wall and ceiling mounted units can be used in populated spaces, mobile devices and hard mounted packages can be used for patient room and OR disinfection, and UV lamps can be added to the HVAC system to disinfect and clean the return air recirculated through the facility.
Read the full article, "US Hospitals Prepare for COVID-19 amid uncertainty" by Sheila Mulrooney Eldred for CIDRAP.
---