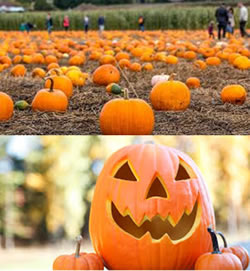 What a year it has been for children, and adults, throughout the United States. With daycares, kindergartens and schools closed for the majority of the year, and slowly re-opening, it is not expected that many children will be out and about on Halloween to trick or treat. The fear of catching and transmitting the virus far exceeds the desire to be going from door to door.
Parents are trying to figure out how to make Halloween 2020 a fun event for the children, and many are coming up with all kinds of creative "non-touch," and social distancing ways, to celebrate this fun event. From Zoom costume parties, to hand sanitizer stations between homes, to even drone deliveries of goodies, the creativity of parents is endless.
In September the CDC issued its guidelines for Fall Holiday celebrations, including Halloween.
Lower risk activities include pumpkin carving, decorating with members of the household, and holding virtual Halloween costume contests.
Moderate risk activities are described as participating in one-way trick-or-treating, where individually wrapped goodie bags are lined up for families to grab and go while continuing to social distance (such as at the end of a driveway or at the edge of a yard). The CDC provides good instructions on how to keep goodie bags disinfected, and continues to recommend social distancing. Most importantly noted is that a costume mask (such as for Halloween) is not a substitute for a cloth mask, unless it is made of two or more layers of breathable fabric that covers the mouth and nose, and doesn't leave gaps around the face.
High risk activities should be avoided. They include participating in traditional trick-or-treating, where treats are handed to children who go door to door; attending crowded costume parties held indoors; going on hayrides, or tractor rides, with people who are not in your household; and traveling to a rural fall festival that is not in your community, especially if you live in an area with community spread of COVID-19.
The American Academy of Pediatrics developed fun posters that serve as guidelines for parents to keep their children safe: Halloween & COVID-19: Have Fun While Staying Safe, provides tips and ideas on how to prevent Covid-19.
What a year 2020 has been. Hopefully 2021 will return to joyful celebrations with family and friends.
---