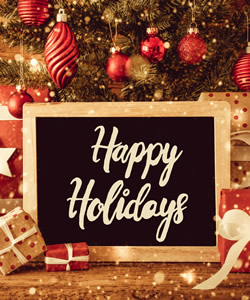 We want to take the opportunity with this month's newsletter to wish all of our clients, friends, employees, and all of their families, a wonderful and joyous holiday season. Our world has changed in many ways in 2020 - our daily routines, and how we celebrate the holidays, are not so routine anymore. We think it is safe to say we have all been impacted by this terrible pandemic. Most of us have friends and family that have been directly affected and, in some cases, loved ones have been lost. To those of you who have suffered the loss of a friend, family member, or loved one, the holidays can be an especially difficult time - please know our thoughts and prayers are with you.
Along with the dark days we have been through we have also seen some bright points of light and hope.
We want to take a minute to thank all of our frontline, and behind the scenes, Healthcare workers; and our Police, Fire, EMS, and Military personnel that answered the call, and showed up day after day to keep the rest of us safe while putting themselves, and their families, at risk.
Thank you!
We also want to thank our Teachers, our Caregivers, our Moms and Dads, who have all had to change their lives to keep our children and seniors safe, and out of harm's way. We realize it hasn't been easy with the uncertainty of transmission pathways, and ever-changing guidelines and regulations. 
Thank you!
It has been an interesting year for American Ultraviolet, to say the least. Early on it was discovered that UVC equipment and systems were safe, economical, and effective ways to combat the SARS CoV-2 virus, and we saw a tremendous increase in demand for our products and services. We have done our level best to provide the same high quality of equipment at fair prices, and help as many people as possible. In order for us to do that we had to ask a lot from our own people - our American Ultraviolet family. So last, but certainly not least, is a thank you to our staff at American Ultraviolet. From the front office to the shipping department, our Production staff, Engineering, Sales, and our Administrative staff, you have all done a tremendous job to help our clients, our children, and all of our families during these difficult and trying times. We asked a lot of our people, and they responded like we knew they would, and we want to make certain we take a minute to thank all of our employees and their families. 
Thank you!
From all of us here at American Ultraviolet we want to wish you and your families a very Merry Christmas, Happy Chanukah, Joyous Kwanzaa, and a very happy and safe Holiday Season.  
---