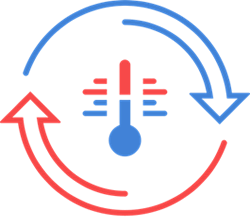 1. Room Air Convection:
Warm air rises - like a sneeze, or a cough, coming from a 98.6°F human in a 68°F indoor space. The air we breathe out will follow the air currents, which are created by fans, HVAC systems, and the motion of occupants. Particles in the air will follow the air current and travel into the UVC disinfection zone.
---
2. Placement:
Upper Air fixtures are located above the occupied space, and direct the UVC energy into the upper air underneath the ceiling. The louvers on the fixtures help direct the UVC beams.
---
3. UVC Disinfection Zone:
The warmer air containing viruses and bacteria is exposed to continuous UVC, which inactivates pathogens in the air. As the upper air cools, and warm air pushes up, a disinfection cycle is created with natural convection present.
---