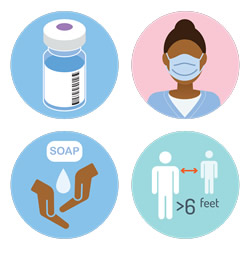 Studies show that COVID-19 vaccines are effective at keeping you from getting COVID-19. Experts also think that getting a COVID-19 vaccine may help keep you from getting seriously ill, even if you do get COVID-19. However, while COVID-19 vaccines can keep you from getting sick, scientists are still learning how well vaccines prevent you from spreading the virus that causes COVID-19 to others. So even after vaccination, we need to continue using all the tools available to help stop this pandemic as we learn more about how COVID-19 vaccines work in real-world conditions.
Although the vaccine supply is currently limited, the federal government is working toward making vaccines widely available.
COVID-19 Variant Update: New virus variants that spread more easily could lead to a rapid rise in COVID-19 cases. A Minnesota investigation found: Less travel = less spread = fewer cases
New Data Shows Ongoing Need for Prevention 
Data published last week in the Morbidity and Mortality Weekly Report (MMWR), and Journal of the American Medical Association (JAMA), highlight how new COVID-19 variants are spreading. This data shows the ongoing need for proven prevention strategies to help limit the impact of these variants.
To slow the spread, everyone should:
Wear a well-fitting mask.
Stay at least 6 feet away from people who don't live with them.
Avoid crowds, gatherings, and poorly ventilated spaces.
Postpone travel.
Wash their hands often.
Get a vaccine when it's available to them.
---