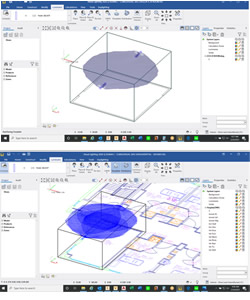 The first article in the Spring Disinfection Update discussed how Upper Air UVC disinfection fixtures have been around for many decades. The question that was posed - "why isn't Upper Air UVGI a requirement in schools, gyms, restaurants, etc.?" – is one that has been asked by many, particularly over the last year. One of the reasons given as to why the technology has not been widely adapted is the fact that much of the sizing and application data is dated and vague.
The global pandemic has created a tremendous demand for Upper Air UVC applications, including for schools, restaurants, churches, office buildings, healthcare facilities; in fact all kinds of public spaces that have high traffic, and just about anywhere groups of people congregate. Because of this increased demand, more effective tools have been developed and installed that provide safer environments. American Ultraviolet is proud to announce that we have adapted and developed the ability to model our Upper Air UVC fixtures with 3-D modeling software that was originally developed for the visible lighting industry. This software allows American Ultraviolet to create the space in three dimensions, and to visualize any one of our Upper Air UVC fixtures, whether they are on the walls, or suspended from the ceiling. Then, with a simple click of the mouse, the program will "turn on the UVC energy," and show the energy field that was created by the designer using specific layouts and selections. This type of modeling is invaluable when it comes to providing a safe and effective layout for any upper air UVC disinfection project.
In addition to the advances in modeling software, the American Society of Heating, Refrigerating and Air-Conditioning Engineers (ASHRAE) formed a Guideline Project Committee (GPC37) that produced the Guidelines for the Application of Upper-Air (Upper Room) Ultraviolet Germicidal (UV-C) Devices to Control the Transmission of Airborne Pathogens. ASHRAE is comprised of industry professionals, academics, and end users who are dedicated to developing a set of guidelines that will be available to the public for the proper and safe design and application of upper air UVC systems and equipment. The modeling software will be a critical tool for theoretical validation in support of the GPC37 Guidelines. We are thrilled to be able to offer this service to our clients.
---