Upper Air
The Fox Theatre Becomes First Performing Arts Venue in Georgia to Achieve Accreditation from the Global Biorisk Advisory Council 
New Building Health and Safety Preparations Announced
Atlanta, GA – (March 1, 2021) The Fox Theatre has announced it has achieved the Global Biorisk Advisory Council® (GBAC) STAR™ accreditation, the gold standard for prepared facilities. Under the guidance of GBAC, a Division of ISSA, the worldwide cleaning industry association, the Fox Theatre has implemented the most stringent protocols for cleaning, disinfection, and infectious disease prevention. The accreditation is one of many health and safety preparations the Atlanta theatre has made to reopen. 
As the cleaning industry's only outbreak prevention, response, and recovery accreditation, GBAC STAR™ helps organizations establish protocols and procedures, offers expert-led training, and assesses a facility's readiness for biorisk situations. The program verifies that the Fox Theatre implements best practices to prepare for, respond to, and recover from outbreaks and pandemics.
"By taking this important step to pursue the GBAC STAR, the Fox Theatre has received third-party validation that it follows strict protocols for biorisk situations, thereby demonstrating its preparedness and commitment to operating safely", says GBAC Executive Director Patricia Olinger.
To achieve this accreditation, the Fox was required to demonstrate compliance with the program's 20 core elements, which range from standard operating procedures and risk assessment strategies to personal protective equipment and emergency preparedness and response measures. Learn more about GBAC STAR accreditation at www.gbac.org. 
In addition to earning the GBAC STAR™ accreditation, the Fox is making significant improvements to the facility's air quality. Most notably, the theatre has consulted with Mathias Environmental out of Duluth, GA to design and install an Ultraviolet Germicidal Irradiation (UVGI) system in its heating and air ventilation system. The technology, recognized for disinfection of air by both the CDC and the American Society of Heating, Refrigeration and Air Conditioning Engineers (ASHRE) uses UVC lighting to attack the DNA and RNA of microorganisms found in the air. "UVC has been used to combat the spread of airborne microorganisms like Tuberculosis since the 1960's," says Jeff Stines of American Ultraviolet, the company providing most of the Fox's UV lighting equipment.
The theatre's air quality improvement project adds to a list of evolving health and safety preparations it has made since shutting down last March. 
"The Fox's determination to utilize one of the most effective and proven technologies backed by decades of testing and research, is a refreshing example of a facility and its management that doesn't just say they're doing something effective and meaningful but prove they are with an investment like this," says Dave Heydinger, President of the Mathias Environmental.
Regarding more operational changes, guests returning to the Fox can expect a more contactless event experience: 
Digital tickets to replace paper tickets and print-at-home delivery options
Mobile entry with self-scanning pedestals
Guest-facing credit card terminals and contactless payment options
Plexi-glass partitions at all food and beverage service locations
Touchless hand sanitizers throughout the theatre
Mobile pick-up on select food and beverage through the Fox Mobile App 

"Local, state and federal guidelines related to resuming indoor live events continue to evolve. We are continuing preparations for a summer reopening and will share further event updates including guest implications as they develop," says Allan Vella, President, and CEO of the Fox Theatre.
For up-to-date information regarding the Fox Theatre's health and safety protocols and calendar of events, visit foxtheatre.org and follow @theFoxTheatre on Facebook, Instagram, and Twitter.
Read the full article here.
---
Surface Mount (Troffer)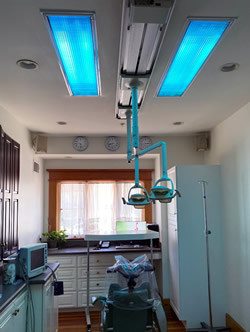 Application Spotlight: UVC for Oral Surgery Facilities
Oral Surgeons and Dentists perform vital services for the world's population.
With such a critical role in taking care of people, an overwhelming number of these oral health facilities have employed UV-C germicidal technology – along with other increased hygienic practices – in order to remain open and provide their valuable services to patients during a global pandemic that has forced the world to reevaluate the cleanliness and safety of the places we visit throughout our normal routines. 
South Pasadena Oral and Maxillofacial Surgery has installed American Ultraviolet's Recessed Troffer (RT) series direct UVC fixtures for use before and after procedures in order to provide a safer space for patients to receive the care they need. 
The placement of these fixtures flush with the ceiling not only preserves the aesthetics of the rooms in which they are used, but also offers the added benefit of providing UV-C germicidal light from multiple directions, creating a more even energy footprint (and reducing shadowing) throughout the room than can be achieved with a single source of UV-C.  The fixtures are also always there – not down the hall in another room as can happen with mobile UVC units when usage needs exceed available equipment. 
By providing a sufficient dose of UV-C to the air and surfaces in the room, these RT series fixtures are capable of effecting viruses, bacteria and other microorganisms and their growth. Dose can be verified with a UV-C radiometer or something as simple as Dosimeter cards with ink that changes color to indicate accumulated UV-C energy.  These tools can be used to benchmark run time to achieve desired dose and to periodically spot check fixture performance as lamps approach the end of their rated lifetime (prior to installing new lamps).
Oral health is a key indicator of overall health, well-being and quality of life.
~ World Health Organization
---
Indoor Air Quality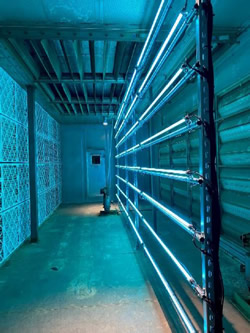 The University of Georgia takes significant steps with UVC Light to ensure the safest possible environment for Students, Faculty and Staff. Major improvements include a custom-designed array of UVC light fixtures supplied by Digital Light Sources (DLS) and rigorously engineered by Mathias Environmental to improve Indoor Air Quality.
Mathias Environmental is proud to be working on UGA's Miller Learning Center project to vastly improve confidence in the indoor air quality throughout this impressive facility. It is rewarding to work with an organization with such an obvious commitment to their students, faculty and staff to focus on a safe environment from a viral perspective, and to be part of bringing back our normal lives safely. Mathias commits to providing real, measurable results that can be fully understood and verified.
Extensive testing and modeling-based calculations are being carried out by the Mathias Environmental team, in close coordination with Digital Light Sources – the exclusive distributor of American Ultraviolet UVC Equipment to Cinemas and Theaters in the US with expansions to include Universities and Large Venues. American Ultraviolet, the largest US manufacturer of UVC equipment, has provided equipment and support for the Miller Learning Center project.
"It has been a great pleasure to work with Mathias Environmental on this and other similar projects, where world class indoor air quality solutions can provide high use facilities with sustainable and proactive safety measures, ultimately enhancing the Social Experience" said Sami Haddad, President of Digital Light Sources (DLS).
"This is the ultimate example of a fully designed and implemented approach that focuses on real improvement in the health and safety of the indoor environment. With so many facilities spending great amounts of money based upon gadgetry and slick marketing brochures, it is projects like The Miller Learning Center that will be able to demonstrate real, measurable success", said Dave Heydinger, President of Mathias Environmental.
---