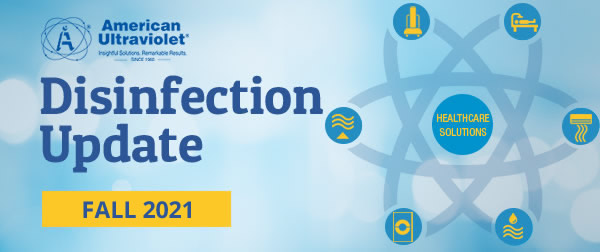 ASHE 2021 – Live Again From Tennessee
Adhering to mask requirements, social distancing, and hand hygiene are important criteria for participating in trade shows. And all are well worth if it means we can be back, in person, as we just were at ASHE 2021 in Nashville, Tennessee - a great event for American Ultraviolet, and for all exhibitors and attendees.
The ASHE 2021 conference was well attended; and a great opportunity to visit with old friends, and to make new friends. The highlight of the show was the interest expressed in all American Ultraviolet disinfection products - the most diverse product offering in the industry attracted many visitors. Our 4 Pillars of UVC Disinfection concept offers a comprehensive approach, which industry leaders are seeking for their respective facilities. We are truly excited and honored by the many inquiries we received during the tradeshow.
For more information, please visit:
UVC Disinfection Solutions for Healthcare

---
---
Visit the Disinfection Update E-newsletter archives (which begin with March 2020) to read helpful stories about the effectiveness of UVC Disinfection.
---
None of the American Ultraviolet UVC products detailed above are certified, or approved under any applicable laws, as a medical device, and as such, American Ultraviolet, and its Representatives and Distributors, do not currently intend for them to be used as medical devices anywhere globally. Products have not been evaluated by the FDA.
---