One of many key and very unique strengths of American Ultraviolet is the ability to provide end users with what they need, as opposed to what is available as a standard equipment offering. UVC companies that import, or have their products made by an outside contract manufacturer, are only able to offer what they already have, which sometimes isn't the best fit for an active situation. On the other hand, American Ultraviolet has a full staff of in-house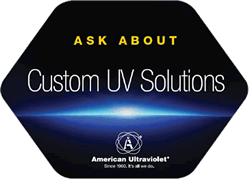 Engineers, including Application Engineers, Mechanical Engineers, and Electrical Engineers that have graduated from some of the most prestigious Engineering schools in the United States. Our Senior Engineering staff has an average of 25+ years designing UVC equipment and systems. This past year, with the increased demand for UVC equipment, we have been able to add three more key Engineers to the group. Combine this experienced Engineering Team with our State-of-the-Art 70,000 sq/ft manufacturing plant, where we fabricate and bend our own sheet metal, warehouse stock products, and assemble our stock and custom equipment, and it's easy to see why American Ultraviolet has been, and will continue to be, the "Leader in UVC Technology."
The demand for our custom-sized Fixed Mounted packages for Operating Rooms, production areas, common areas, and even classrooms; as well as our custom ICR (Infection Control Racks) for high volume / high UVC dose air disinfection, has increased tremendously over the last few years.
Other custom applications we have provided solutions for include container and film disinfection solutions for our Food and Beverage and Pharmaceutical clients: single use coffee pods; beverage bottles and cans; yogurt, hummus, and other food containers; and tubs and bins, just to name a few.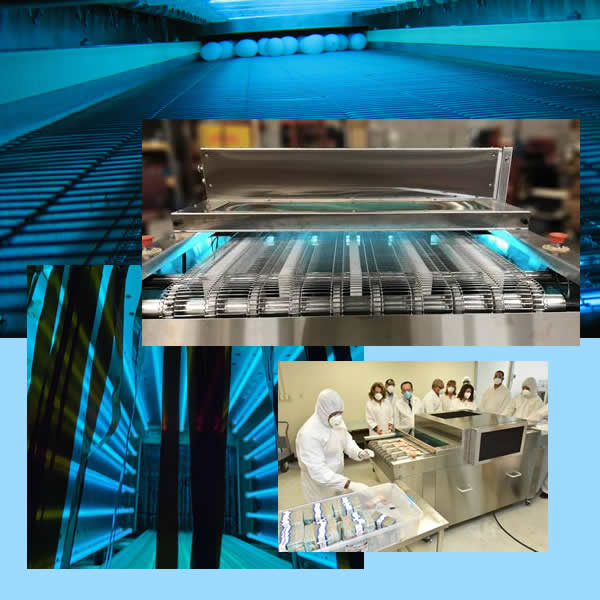 We also fabricate custom solutions for direct product irradiation - lettuce, tomatoes, strawberries, and other produce can easily be treated with UVC energy for surface disinfection, without altering the appearance or taste.  Beef, poultry, and fish are still additional examples of custom solutions American Ultraviolet has been designing, engineering, and manufacturing custom solutions for since 1960.
Many of our custom designed exposure tunnels and chambers are used by bakeries to help improve and extend the shelf life of bread and rolls, bagels, pizza crusts, tortillas, muffins, and more. 
What all of these applications have in common is that they all had to be designed and built to fit specific client needs. Different applications target different microorganisms that require various levels of energy for inactivation. Different line speeds, conveyor widths, physical plant restraints, and, of course, user safety, all must be considered as we define a project scope and are all important details we must consider as we work through the process of creating custom UVC disinfection equipment.
Please take a moment to learn more about our Custom Solutions - or please feel free to contact one of our application Engineers to discuss your specific UVC project goals, so that we can help you develop a custom solution based on your needs.
---