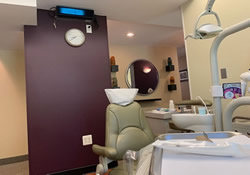 Dental operatory environments are as critical an area to keep disinfected as any hospital OR suite. It is important to ensure that the operatory is clean and safe for patient care, and staff use. Cleaning and disinfecting between patients is an essential and time sensitive practice. Once vacuum line cleaning has been completed for each suction line, it is a requirement to clean all clinical contact surfaces with EPA registered hospital disinfectants. Another disinfection technology being embraced for adjunct surface disinfection by the dental industry is ultraviolet disinfection.
Enhanced Surface/Air Disinfection – Best Practice - UVC Fixed Mount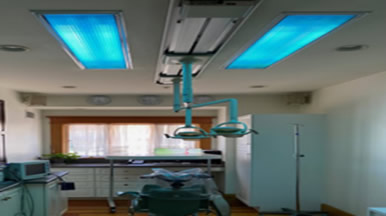 Recessed Troffer (RT) UVC fixtures (As Shown)
While cleaning and disinfecting  contact surfaces with EPA registered hospital disinfectants (both high and low level) continues to be the required practice, enhanced disinfection of  non-clinical contact surfaces (such as computer keyboards, patient chairs, operator, and assistant tools, etc.), can be achieved with fixed mounted UVC . In an unoccupied room these units will lay down a blanket of UVC energy to all exposed surfaces, helping to disinfect areas that may have been missed during manual cleaning.
Enhanced Surface/Air Disinfection – Best Practice – Ultraviolet Disinfection Mobile Unit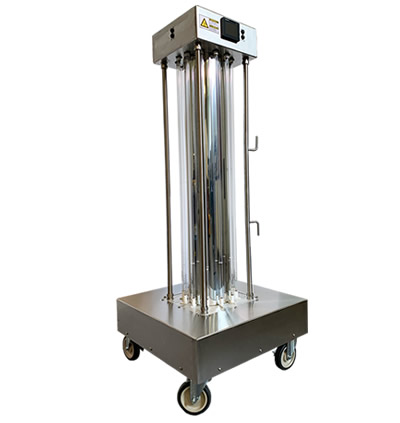 MRS45-12 Mobile Room Unit – Dental Industry Favorite (As Shown)
Another option for dental professionals who wish to utilize a non-fixed UVC solution for their facility is a mobile disinfection unit. A variety of mobile room units are available from American Ultraviolet, each with the ability to deliver a uniform dose of UVC energy to surfaces and air with a preset cycle. When enhanced disinfection with the mobile room unit is complete, it is easily moved to the next area to be disinfected.
Enhanced Surface/Air Disinfection – Best Practice – In Room Air Disinfection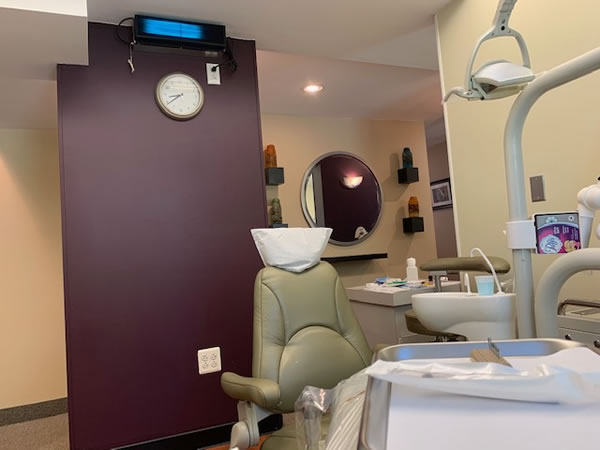 TB-12 Upper Air Disinfection Fixture (As Shown)
Good practice calls for a minimum of twelve (12) air exchanges in the operatory per hour (exhausted to outside air, no recirculation), enhanced disinfection of air circulating in the operatory can be achieved with upper room UVC devices. Designed for use in occupied spaces, these devices provide a blanket of UVC energy in the upper area of the room, above occupants, and just below the ceiling.
Real World Application Success – Enhance in Room Air and Surface Disinfection with UVC
By providing a sufficient dose of UVC to the air and surfaces in the room, these fixed units (RT and TB Series), and Mobile units (MRS Series) can help lower microorganisms on surfaces and in the air, of  dental operatories. Adding UVC disinfection technology to any dental operatory (and entire dental office for that matter) will significantly enhance your indoor environment and air quality for your patients and staff.

For additional information on how to make your dental facility a safer environment for your patients and staff, and/or to schedule a free consulting appointment, please contact American Ultraviolet.
About the Author – Gene Doucette has been an applications expert in the field of UVC technology for air, surface, and liquid disinfection for more than 30 years. Mr. Doucette is a valued team member at American Ultraviolet who has lent his expertise to companies worldwide in the healthcare, pharmaceutical, food/beverage, semiconductor, commercial/industrial, municipal, residential, and agricultural industries (and many others). He, as well as the entire American Ultraviolet team, look forward to helping you and your company with UVC technology.
---