About fourteen years ago Advanced Thermal Solutions decided to switch UVC manufacturers and signed up with American Ultraviolet. Headquartered between Baltimore and Washington, DC, Advanced Thermal Solutions has been a leader in HVAC equipment sales since 2002. Serving Washington DC, Northern Virginia, and Maryland, ATS is committed to providing quality service and innovative solutions to engineers, contractors and owners assuring guaranteed product performance.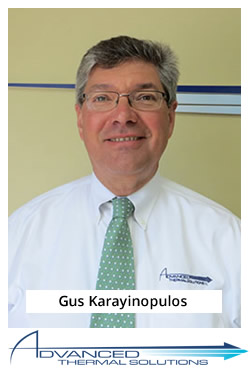 Some of Advanced Thermal Solution's more high-profile customers include Johns Hopkins Health System, University of Maryland Medical Center, Baltimore Washington hospital, as well as some of the larger facilities management companies in the DC / Baltimore area.
Over the last fourteen years Advanced Thermal Solutions has grown from an office and engineering staff of twelve to more than twenty inside and outside sales engineers, and a service and support staff of more than ten. "We made the decision to switch to American Ultraviolet because of product quality, engineering, and design support, and because their products are made in America," stated Gus Karayinopulos, Founder / Business Development, for Advanced Thermal Solutions, who went on to share - "It is never easy to switch suppliers as a manufacturer's rep, however, due to the superior products, and support, from American Ultraviolet, the transition has been seamless, and ATS, and our clients, have benefitted greatly from the change."
Mr. Karayinopulos continued "At the time we had a high-profile healthcare client in the DC metro area that wanted to install UVC lamps in two (2) high volume AHUs feeding their operating rooms. The challenge was finding a location where the UVC lamps would "see" the air long enough to deliver a lethal dose of energy to the microorganisms in the passing air. With the help of the sales engineers at American Ultraviolet we ran the UVC numbers, selected the ICR series as our solution, and were quickly able to provide the hospital an added layer of protection for their operating rooms." 
Our friends at ATS serve the Maryland and Northern Virginia territories for American Ultraviolet, with local offices in the Washington, DC, and Baltimore, metro areas. Advanced Thermal Solutions can provide sales and tech support for all American Ultraviolet germicidal product lines designed for air, surface, and liquid disinfection. Reach out to one of their experienced sales engineers with any questions about your next UVC project. You can also learn more about "The Four Pillars of UVC Disinfection" by visiting www.ats-hvac.com.
---