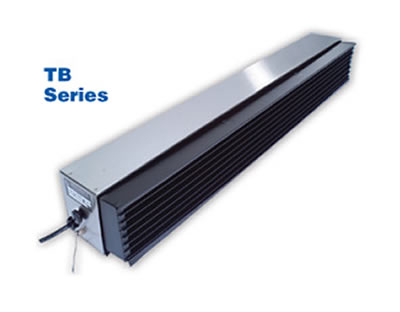 The TB Upper-Air Series is available in three sizes (providing 100, 200 and 300 square feet of coverage), and operate from 110-277 VAC at 50 or 60 Hz, allowing installation flexibility to accommodate virtually any room or building layout.
Multiple fixtures can be used to cover areas larger than 300 square feet plus the Pendant 360 can be placed in the center for very large areas. Below is a small collage of installation images.
---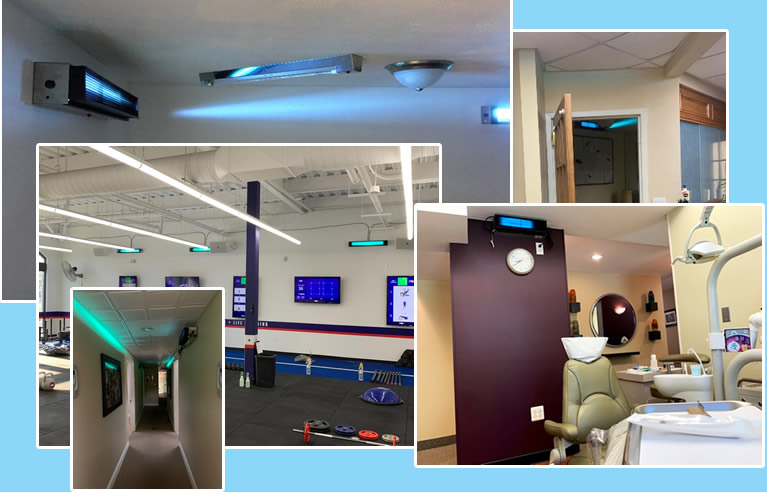 ---
RAM Upper-Air Series – Tamper Proof!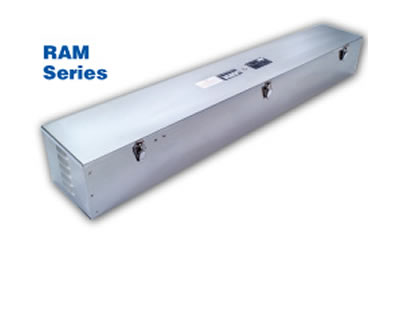 The RAM Upper-Air Series is a perfect solution for low ceilings, or where a tamper proof fixture is required. It features dual lamp configurations with fan motors pulling the air through the stainless-steel housing. This fixture is available in two high output lamp sizes (14" or 36"), with two voltage options (115 or 230VAC), allowing installation flexibility to accommodate virtually any room or building layout. RAM Series fixtures are also designed for easy access lamp changes. RAM Series lamps are rated for two-year continuous operational life.
---
CM 15 Upper-Air Corner Mount Series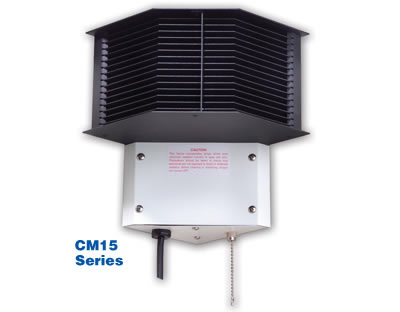 CM-15 Upper-Air units are designed to mount in corners of smaller rooms or larger spaces where multiple units can be used to provide an attractive solution to upper air disinfection. A single CM-15 unit can cover 75-100 square feet, depending on the application. The CM-15 is easily accessed for lamp replacement. CM-15 lamps are rated for 9,000 operational hours.
---
Learn more about the TB, RAM and CM-15 Upper Air UVC devices
Please contact your American Ultraviolet Team to assist with an upper air layout, and to help with the design of your specific facility. We are looking forward to hearing from you!
---
American Ultraviolets UVC products are not certified, or approved under any applicable laws, as a medical device and as such, American Ultraviolet does not currently intend for them to be used as medical devices anywhere globally.