D-100 Delivery Conveyor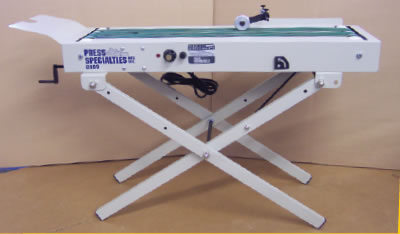 The D-100 Universal Delivery Conveyor is ideal for use with envelope feeders, folders, booklets and more, allowing an increase in production by letting the pressman concentrate on the printed image, or folding the stock, rather than on the falling stack from the envelope delivery, including the D-100 Universal Delivery Conveyor.
Free-standing delivery conveyor
Variable speed up to 210"/minute
Adjustable height from 19-37"
10.5" wide X 36" long
110V / 5 Amps / 60 Hz
Universal Brush Skid Wheels
Turns on conveyor tapes forcing the stock forward into the head stops for better registration.
Easy to attach
No tools necessary
Works with Hamadas, Heidelbergs, Multis, Ryobis, and other small and large presses with conveyors.
Jogger Extension Kit
Fits on Itek 3985, Ryobi 3302/3304, AB Dick 9985/9995 and Toko R2.
Run envelops and small stock without having to breakdown your conveyor or run tapes over the side guides.
Kit attaches to your press side guides simply by tightening a thumbscrew.
No tools necessary
The extension guides adjust to the stock by adjusting the press side guides.