Food & Beverage Processing/Packaging
American Ultraviolet offers several standard and custom UV solutions for food processing applications, including:
CE Series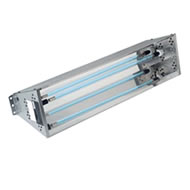 CE fixtures that can accommodate from 1 to 4 lamps and are available in widths up to 60 inches. These fixtures, complete with UV lamps, can be placed over and under conveyor lines to reduce any mold or bacteria from food, films, or container surfaces, prior to packaging. If the application calls for a custom solution, our engineering department will design a system specifically for your facility or production line with a UV dose targeted to achieve a significant reduction of microorganisms. Destroying mold and bacteria on the product, and from packaging material, has been shown to dramatically increase the shelf life of certain products.
---
All American Ultraviolet systems can be designed for any electrical supply configuration. Our standard and high output low pressure lamps have less than 8 grams of mercury, and a useful life of up to 18,000 hours, depending on the application. Our shatter-resistant coating is standard for all our food processing and packaging applications. For applications requiring a higher target dose, we can also offer amalgam and medium pressure lamp technology.
IP 55 Utility Fixture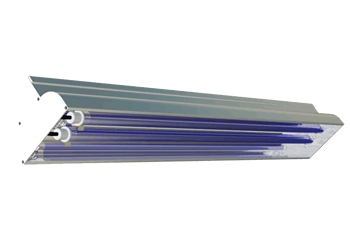 The UFA-36-2-IP55 Utility Fixture is designed to meet IP55 rating standards, making it dust protected and suitable for wash down environments.
Click here to review Environmental Test Results for the IP 55.
Specifications
Material Construction: Extruded aluminum housing with replaceable, spectrally polished reflector liner for maximal UVC reflectivity.
Lamps: Two (2) standard output (420mA), low-pressure mercury vapor, cell-base, dual-walled UVC lamps with sure seal lamp cable connection to greater degree of moisture protection than a standard lamp type.
Electrical: Input voltage shall be 120-277VAC, 50/60Hz. Liquid tight conduit shall be used to bring power to fixture for all moisture-proof applications.
Mounting: By end user, as required. Optional mounting brackets can be fitted to fixture end­plates
Dimensions: 36.18" L x 5.00" W x 3.81"H
---
To learn more about our Direct Fixture Food & Beverage Solutions, including an independent environmental test report, please visit our technical library where you can download and print literature.
Prolonged, direct exposure to UVC light can cause temporary skin redness and eye irritation. American Ultraviolet systems are designed with safety in mind and, when properly installed by a professional contractor, do not allow exposure to UV irradiation and allow for safe operation and maintenance.