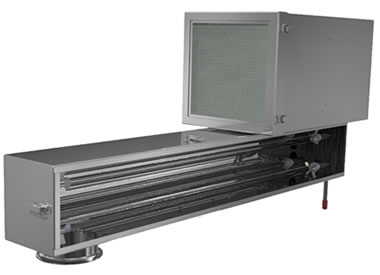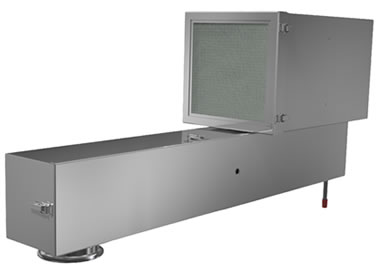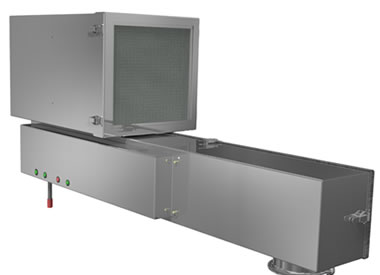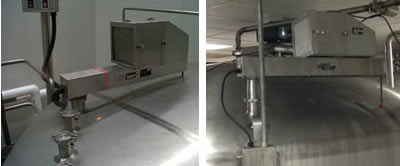 The American Ultraviolet tank-mounted LTC (Liquid Tank Conditioner) Series,The American Ultraviolet tank-mounted LTC (Liquid Tank Conditioner) Series, formerly the SC (Sterile Conditioner) Series, has become an industry standard for controlling microbial growth in Liquid Sugar and High Fructose Corn Syrup (HFCS) storage tanks. By using a combination of particle filtration (via a series of media filters), and microbial filtration (via UVC lamps like those used in medical applications), these units provide clean, disinfected air to the headspace, and have been doing so for decades. Of course we're always working on making our products more and more effective, and, over the years, we've improved the LTC Series with the addition of lamp monitoring, airflow monitoring, shatterproof-sleeved UVC lamps, and upgraded, standard components that enable the equipment to successfully operate outdoors. Thousands of custom units have also been made for various applications that require features not typically available on this type of equipment. Through the combination of satisfying the most common custom requests, incorporating innovations in materials, improved fabrication techniques, embracing industry trends, and, because of decades of our in-house design and manufacturing experience, we're very pleased to report that the facelift we've applied to our new LTC series has proven to be very well received by our customers.
American Ultraviolet always wants to ensure we are providing the best "UV filter" possible, so we turned to an independent testing lab to obtain HEPA Filter Penetration test verification for our new design. With a target of ≤0.03% penetration to pass HEPA Filter Penetration standards, we achieved an actual penetration of 0.0031% - 10 times better than the requirement to pass. This was achieved with the following changes to the LTC design:
Heavy gauge stainless steel construction that is continuously welded, which means every seam on the stainless steel UVC chamber and blower/filter enclosure of the new LTC is welded and ground smooth. This makes for an airtight enclosure, and eliminates 99.9969% of particulate matter before the UVC lamps are even factored in

In order to continuously weld these units, the steel needed to be able to handle more heat during fabrication, so we upgraded the thickness of material used, resulting in an even sturdier enclosure more likely to hold it's shape in the event that it is mishandled in shipping, installation or routine maintenance


A 6" deep pleated "Absolute" HEPA filter is included with every LTC version currently offered. It was determined that the 1" thick electrostatic pre-filters alone were not acceptable for adequate particle filtration, so the pre-filter only versions of the LTC have been discontinued


The ballasts that drive the UV lamps have been moved outside the airstream to maximize the effectiveness of the UV exposure chamber and make room for additional lamps inside the UV chamber
Because there have also been advances in UV lamp, and electronic ballast, technologies over the last decade or two that specifically benefit this application, they were also included in the LTC facelift.
Lamps
True 800mA "high output" UVC lamps produce approximately twice the UV energy than the standard output lamps previously used in LTC units, though they remain the same diameter and length. This effectively allows the dose rate to the airflow to be doubled from the 2-lamp, standard output LTC units without adding additional lamps
Shatterproof lamps have become the standard for any food or beverage application over the last decade, and they have been the default lamp type provided with the LTC series since 2011 (and offered as an option since 2001). Earlier versions of this coating offered the safety of containing the contents of a broken lamp at the cost of anywhere from 10-30% of that lamp's rated output. The current coating used on these lamps is significantly better – offering only a 3-5% UVC output loss compared to an uncoated lamp
High output lamps used in the LTC Series are "single-ended" lamps, meaning the lamp simply plugs in to the single-piece lamp socket harness on one end, and the other end of the lamp has no electrical connections, which simplifies lamp changes.
Lamps are held in place inside the chamber by stainless steel clips, requiring no tools to install, or replace. This mounting method replaces the compression lamp sockets made from a plastic outer housing used in the original fixtures, which were subject to degradation from time and UVC energy
Ballasts
By incorporating updated electronic ballast technology, the LTC Series now offers lamp-out LED indication included in every unit. Formerly, a lamp-out "Tube Guard" indication was required for external indication of lamp function
The biggest advantage of the LTC's new ballast is End of Lamp Life Protection. Put simply, this technology recognizes when a lamp is not lighting, despite the ballast's attempt to ignite it; and ceases further attempts to strike the lamp until it is replaced, thus preventing the ballast from continually working to strike a dead lamp, and preserving the lifespan and integrity of the ballast, allowing a more reliable ballast function well beyond what was previously available
The new ballast is located outside of the UV chamber, leaving the contents of the UV exposure chamber to nothing but UVC lamps and stainless steel
Finally, because we also felt it was important to simplify the offerings and options of our LTC Series, as part of our facelift we decided to offer an appropriate spectrum of available configurations, without creating unnecessary complexity. To this end, the LTC Series now offers, as standard options available at no additional cost, tri-clamp, flange and female-threaded pipe coupling connections to the tank in sizes of 2", 2.5", 3" and 4". Couplings are provided mounted to a stainless steel plate that in-turn mounts to the UV chamber, and are no longer welded directly to the chamber housing. This allows change-out of the tank connection without having to replace the entire fixture. All couplings are now stainless steel, as the traditional PVC 3" FPT connection has been replaced with a stainless steel version.
The standard LTC Series continues to be made from 304 stainless steel, but offers the option to upgrade to 316L stainless steel construction for applications and facilities requiring this grade of material.
Options
Despite all the upgrades and additions to the LTC Series, there are still some add-ons, and features, that remain optional, including:
Airflow monitoring and indication
316L Stainless Steel construction
220V - 50/60Hz operation (no additional cost)
Remote mounted lamp-out and airflow indication (future option)
Heater add-on with control (future option)
CE approval (future option)
Output to external monitoring of lamps and airflow (future option)
---
To learn more about the LTC Series, and other Liquid Sugar Tanks, including technical specifications, please visit our technical library where you can download and print literature. For remote mount needs, please visit our BT or SC-4 Unit pages
Prolonged, direct exposure to UVC light can cause temporary skin redness and eye irritation. American Ultraviolet systems are designed with safety in mind and, when properly installed by a professional contractor, do not allow exposure to UV irradiation and allow for safe operation and maintenance.