TTG Series Immersion Units
TTG Series fixtures sterilize tank headspace, as well as the liquid in the tank. The lamp is housed in a quartz sleeve for protection, as the lamp is partially submerged, and suspended in the tank by a double-grooved gasket. The stainless steel electrical enclosure (which also holds the lamp in place) fits on top of the tank and features a Tube Guard to indicate that the lamp is operating properly. These fixtures are offered in 18", 28", 36", and 64" insertion depths to fit a variety of tank sizes. When used with an American Ultraviolet in-line liquid disinfection unit, product will leave the tank 99% bacteria-free.
To learn more about the TTG Series, and other Internal Tank Equipment, including technical specifications, please visit our Technical Library where you can download and print literature.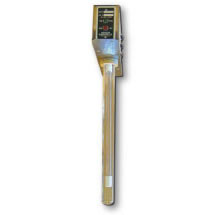 Prolonged, direct exposure to UVC light can cause temporary skin redness and eye irritation. American Ultraviolet systems are designed with safety in mind and, when properly installed by a professional contractor, do not allow exposure to UV irradiation and allow for safe operation and maintenance.
---