Spectrum 100 / 100 watt system:
Small 10" x 10.5" x 5" stainless box design
100 watt bulb, programmable timer
10-15 watt of UV output, 2000+ hours of bulb life can be used with any standard liquid filled or our new fused fiber light guides
AUVCD/LESCO UV Lamp Advantage:
Spectrum 100w employs premium mercury short arc lamps rather than mercury halide bulbs. Short arc lamps have a much higher UV output than halides which primarily emit visible light. LESCO bulbs also feature the LONGEST Bulb Life (2000 Hours Expected hours).
To learn more about the SPECTRUM 100, including technical specifications, please visit our technical library where you can download and print literature.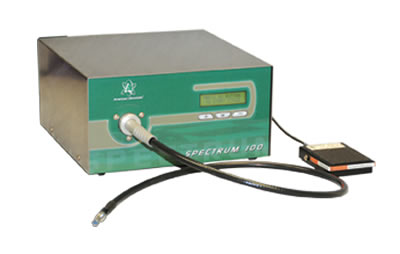 Advanced Features
Stainless Steel Construction
Clean Room Ready Class 100
Patented Lamp Reflector Assembly Designed for Easy Access
Accepts Standard Liquid & High Power Fiber Optic Lightguides
Power Input 120/220 VAC 50/60 Hz
Optional Voltage 90/264 VAC 50/60 Hz
Small 9.75 x 12.5 inch footprint