The Spinster UV Bottle Curing system from LESCO instantaneously cures all sides of bottles from 1/4 oz. to 1 gallon.
Round, square, hex, oval or tapered bottles of various shapes and sizes can be run one after another with little or no adjustment between the different sizes. The Spinster has a unique and patented rotational conveyor and reflector design placement that ensures complete 360° curing.
Built to be at home in the nonstop production environment of semiautomatic silk screen printing of bottles, the Spinster can take the punishment of around the clock operations.
With completely shielded entrance and exit tunnels, the Spinster can be operated anywhere it is needed in the shop. Mounted on casters for easy mobility, the 42" diameter Spinster requires only 15 square feet of floor space.
UV curable inks and coatings can be applied to plastic, metal or glass containers. These inks and coatings are also scratch, solvent, grease and abrasion resistant which is ideal for container decorating.
LESCO is a total solution provider for the implementation of UV technology. We take pride in building the right equipment to do the job.
To learn more about the Specialty Curing Spinster® Bottle Curing System, including technical specifications, please visit our technical library where you can download and print literature.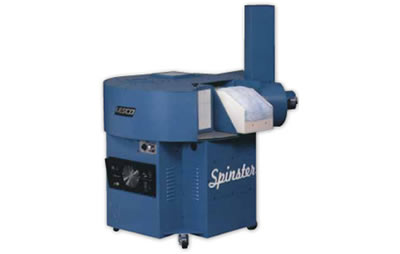 Standard Features
Variable Speed Curing Capacity
Cures a range of container sizes from 1/4 oz. to 1 gal., 12 1/8 tall x 6" dia.
Curing Shapes: Cures round, oval, hex, square and tapered containers.
Controls: On/Off, Rotational Speed.
Eliminates harmful solvent emissions.
Cuts Energy Costs.
Footprint: 42" in diameter and requires 15 sq. ft. of floor space.
Lamp Options: 6" (300 w/in.) or 10" (300 w/in. or 375 w/in.) lamp. Castor mounted for easy mobility. Fully shielded entrance and exit tunnels. Internal reflectors for a 360° cure. Patented Technology