Aetek UV System division's UltraPak® Shuttered UV equipment uses high-performance optics that optimize UV output, thus utilizing your presses full mechanical capability and ensuring the successful ultraviolet curing of UV inks, coatings and adhesives at all printing speeds and for many different applications, including flexography, web offset, rotogravure, rotary screen, ink jet and variable data (CIJ and DOD) processes. UltraPak UV curing equipment is ideal for curing substrates from 5" to 25"
A few reasons you'll benefit from the UltraPak Shuttered UV Systems include:
Enhanced productivity as minimal cleaning is required between jobs
Inks and coatings stay "open" until exposed to ultraviolet radiation
Improved print quality through high-resolution images and near perfect tone reproduction
EPA-recommended, Green, Best Available Control Technology (BACT) allows you to be environmentally responsible
Open new markets and build existing business around high performance inks and coatings
To learn more about the UltraPak Shuttered UV System, including technical specifications, please visit our technical library where you can download and print literature.
Click here to learn more about how the energy-curable UltraPak can save you money and improve our world.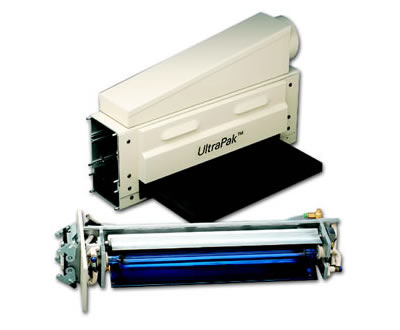 Standard Features
Standard lamp lengths from 6" to 25"
Highly focused irradiator maximizes output to allow faster press speeds
400 W/inch medium pressure mercury lamps
Easy access inner-lamp module enables simple maintenance
Robust design offers multiple safety interlocks for operator safety
Voltages include 208, 220, 230-240, 460-480/60Hz; and 220, 240, 380, 400, 415, 440/50 Hz