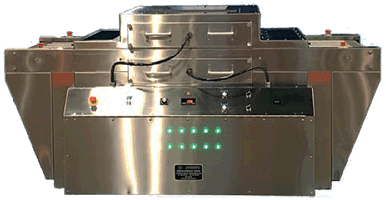 On many occasions since 1960, customers have come to us with truly unique situations that require truly unique UVC solutions, which is exactly why American Ultraviolet has a full staff of experienced engineers.
Our team specializes in the design, mechanical, and electrical aspects of all our projects, enabling us to consistently provide our customers with solutions based around their unique needs and situations. And, because we have in-house engineering, fabrication, assembly, and testing, projects that require custom solutions do not come with unnecessarily long lead times, or astronomically high prices.
Because destroying mold and bacteria on the product, and from packaging material, has been shown to dramatically increase the shelf life of certain products, if you haven't found a standard UV solution that works, please invite us to create a custom solution that will.
Custom Projects include:
UVC Conveyor for Food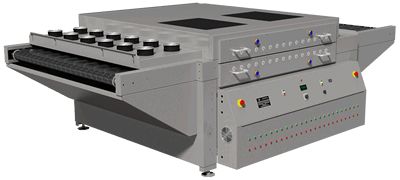 UVC lamp arrays are positioned to treat foods, and/or packaging material, as they pass by the lamps either on a customer's conveyor line or on a conveyor supplied by American Ultraviolet. These systems are designed and fabricated by American Ultraviolet to suit individual customer requirements.
Example:
Upper and Lower UVC Lamp Banks for Complete Exposure
Visual Lamp Function Indication for Each UVC Lamp
316L Stainless Steel Construction Including Conveyor Belt
Slide Out Lamp Trays for Ease of Maintenance
Specifically Designed for Refrigerated Environment
Optically Shielded to Prevent Personnel Exposure to UVC
Safety Shutoffs and System Interlocks
Outcome: Improved Product Shelf Life, More Saleable Product for Longer Timespans
---
Pass-Through Tunnels for Bottle Disinfection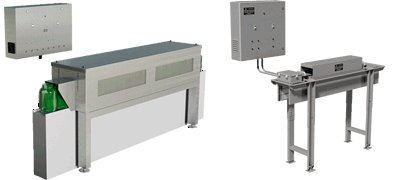 Custom UVC tunnels are designed to treat bottles used as beverage containers to increase product shelf life and reduce contamination. The standalone tunnels mount over an existing customer bottling line and provide the required dose of UVC energy to reduce microbial contamination per each customer's specific operation and specifications.
Example:
Mounts Over Existing Conveyor Line
Single-Pass Disinfection to Customer Specifications
316L Stainless Steel Construction Throughout
Encapsulated UVC Lamps Prevent Contamination in Event of Lamp Breakage
Remote Electrical Control Enclosure with Main Power Switches & Visual Lamp-Out Indication
Resistant to High Moisture Environment
Full Integration with Existing Customer System Monitoring
Outcome: Significant Reduction in Microbial Contamination of Product, Improved Shelf Life of Product
Modular Retrofit UVC Lamp Inserts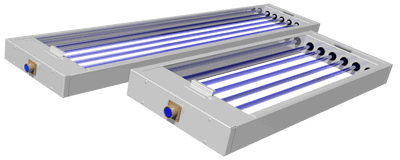 Example:
Available in Any Configuration of Lamp Size, Quantity & Spacing Required
Stand-Alone Systems or Fully Integrated into Customer Equipment
Fully Customizable, Including (But Not Limited to):

Encapsulated UVC Lamps
Output to External Monitoring
Watertight Connections
Remote Electrical Enclosures
Photocatalytic Oxidation Systems
American Ultraviolet, through our partner company, Catalyx technologies LLC, can provide custom VOC removal systems for a wide variety of applications, such as ammonia reduction (i.e. laboratory; animal husbandry); odors (i.e. residential facilities); and many other VOC's for specific applications, or improve general air quality. There are no consumables, like carbon media, to replace making a custom PCO System a very economical and sustainable choice for the reduction of VOCs. Please contact us to learn more.
---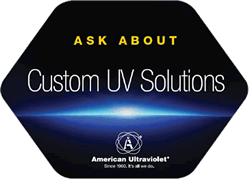 ---
To learn more about using UVC for Food Safety, and Food and Beverage equipment, including technical specifications, please visit our technical library where you can download and print literature.
Prolonged, direct exposure to UVC light can cause temporary skin redness and eye irritation. American Ultraviolet systems are designed with safety in mind and, when properly installed by a professional contractor, do not allow exposure to UV radiation and allow for safe operation and maintenance.