SC-4 Ultraviolet Germicidal Fixtures from American Ultraviolet are top-of-the-line, fully customizable UVC air treatment units that provide an outstanding solution for unique liquid storage tank applications. All SC-4 fixtures feature a remote-mounted control panel enclosure and options for output to process controls.
Standard Features:
(4) high output UVC lamps
Remote NEMA 4x control enclosure
High-pressure blower
Electrostatic (10 micron) and HEPA (0.3 micron) filters
Air-flow indication
Lamp/Ballast failure indication
4" tri-clamp tank connection
Remote or tank-mounted
Options:
Heat control
316L stainless steel construction
Additional lamps
Higher output blower
Lamp intensity monitoring
Food-grade & continuous welds
Alternate connection sizes and types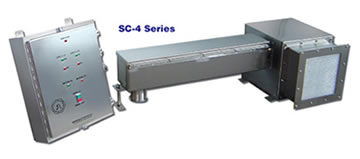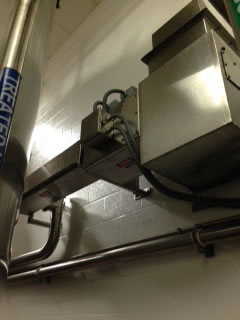 To learn more about the SC-4 Series, and other Internal Tank Equipment, including technical specifications, please visit our technical library where you can download and print literature.
Prolonged, direct exposure to UVC light can cause temporary skin redness and eye irritation. American Ultraviolet systems are designed with safety in mind and, when properly installed by a professional contractor, do not allow exposure to UV irradiation and allow for safe operation and maintenance.
---