Standard Digital/Offset (AUV-Coat)
The AUV-Coat from American Ultraviolet can be set up with one to three separate UV tanks and pumps for coatings and wash. It runs up to one-quarter inch thick substrates, with an option of running up to 1 inch thick substrates.
The AUV-Coat is available in the following sizes:
20" EC - an economical low cost model with no bells or whistles, though it is available with a vacuum feeder
20/25/30 and 40" models are available with and without feeders and stackers; and have touch screen control panels
Standard Features
Coater
3 roll roller coating system (1 Chrome Metering; 1 Chrome Doctor; 1 Specialized Rubber Applicator Roll)
Aqueous and UV coating capabilities with purchase of additional rubber roller
Easily removable applicator roller for change over from UV to aqueous coatings
Closed loop coating recirculation system reduces the chance of cross contamination of coatings ( option of a dedicated wash tank and pump)
Interlocking safety guards on covers and doors
Adjustable head up to 3/8" substrate thickness, or optional adjustable head up to 7/8" thick
Available with or without feeders and stackers (can be easily added in the future)
Conveyor
Adjustable speed from 40 to 200 FPM
Custom light shielding prevents light leakage and
exposure from high intensity UV light.
3 x 1,500W infrared lamps for curing AQ coatings; adhesion
enhancement of wax toner prints; and coating flow-out assistance
High and low wattage settings for the UV lamp (300 and 200 watts per inch)
Integrated safety switches on covers and doors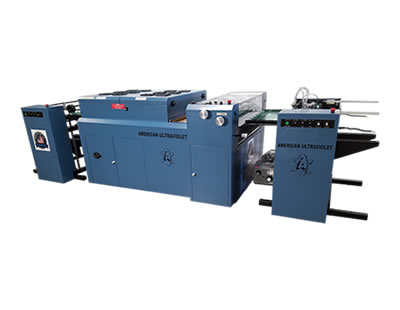 Capabilities
FOR PAPER, PVC AND BOARD STOCKS. Offset, inkjet * Canon * HP * Kodak * Konica Minolta * Heidelberg * Ryobi * Xerox * Presstek * Ricoh * And More!
To learn more about the AUV-Coat, including technical specifications, please visit our Document Library where you can download and print literature.