UV Coating Solution Highlights
---
American Ultraviolet Acquires Two Strategically Aligned West Coast Companies
American Ultraviolet is proud to announce the acquisition of Al's Co. UV Curing Equipment, Inc., Chino, California; and Press Specialties Mfg., Inc., Apple Valley, California. Al's Co. UV and Press Specialties manufacture off-line UV roller coaters, feeders and stackers that compliment American Ultraviolet's complete line of UV curing equipment and, like American Ultraviolet, 100% of their products are made in the United States. Future manufacturing will be consolidated into American Ultraviolet's west coast facility in Torrance, CA.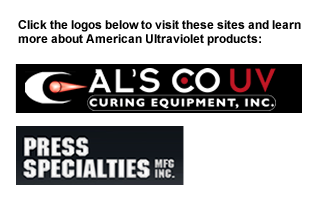 American Ultraviolet, through the acquisition of Al's Co. UV, has increased their product offering and now offers standard UV roller coaters from 20" to 80", as well as smaller, and larger custom UV roller coaters. They can be purchased individually, or with optional feeders and stackers. Mr. Albert Nuño, founder of Al's Co. UV stated – "After a 10-year career developing UV products for another large California-based company, I started Al's Co. UV when my former company chose to move manufacturing oversees. Now, four years later, I'm proud to align with American Ultraviolet, a company that has been committed to manufacturing high-quality UV products in the U.S. since 1960."
Press Specialties was formed in the 1950's and purchased by Ron Young in 1995. Mr. Young shared - "After producing hundreds of paper and envelope feeders, and stackers, for 19 years, I'm excited about this new relationship with Mr. Meredith Stines and all his colleagues at American Ultraviolet, a company with a strong reputation for high standards for quality manufacturing, and service, and pleased to know that our products will continue to be made in California." Paper feeders range in accommodating sheet sizes from 5" X 7" to 30" X 40" and envelope feeders from 3" x 5" to 10" x 15".
Since 1960, American Ultraviolet has manufactured tens of thousands of high quality ultraviolet curing systems for use throughout the world. American Ultraviolet is headquartered in Lebanon, Indiana, and all equipment is manufactured in the USA. Offices are also located in Hackettstown, New Jersey; Frederick, MD; Woodstock, GA, and Torrance, California.

---
American Ultraviolet Roll Coaters Featured in Screen Printing Magazine
We have received some great news this morning we have an editorial feature in Screen Printing Magazine and another publication they have The Big Picture coming out this month!

We have been given an editorial feature discussing one of our newer products: Large Format Roller Coaters or we also refer to them as AUV XL Coaters! These were designed specifically for use with graphics that printed with a large/wide flatbed printer. These also can work with a variety of types of ink including UV, solvent, or water based inks. The best part of this addition to our already diverse product lines is that this can allow our customers to improve profitability in either their current market or a new emerging market by curing larger areas and using our already high speed and quality designed equipment. It is always our goal to develop and engineer more products to meet our unique curing/coating customers needs!

Please take a moment and view our spread here! We are located on page 8 of the Editorial Focus! To learn more about Screen Printing Magazine, a premier printing resource for anything printing check out their website at www.screenweb.com (which is their online component) or follow the our link! We were lucky enough to have similar coverage in their Big Picture April Edition pg 46!

As always feel free to use our website as a resource for more information or contact us through the website, comment section, facebook, twitter, or linkedin!