Porta-Cure Handheld systems enable one person to easily cure surfaces and substrates that for one reason or another cannot be brought to UV curing equipment. A few examples include bathtubs, countertops, pool cues, and flooring that needs to touched up. Porta-Cures are also often used in testing laboratories and for new product development. All Porta-Cure systems contain a medium pressure mercury vapor discharge lamp with high efficiency output in the 185-400nm UV cure range. They also feature ozone free lamps; and lamps of various lengths are available for direct interchange to the units.
*Handheld units are also offered in 220V, 50/60Hz configuration

**Optional lightweight electronic power supply measures 7.5" x 10" x 16.25" and weighs approximately 16lbs.
9" and 12" lamp assemblies available. Some configurations require electronic ballast. Consult factory for configuration options.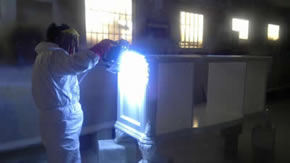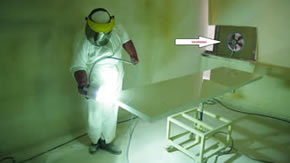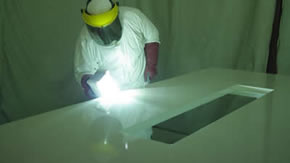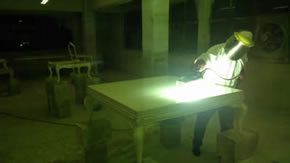 To learn more about the Porta-Cure System, including technical specifications, please visit our technical library where you can download and print literature.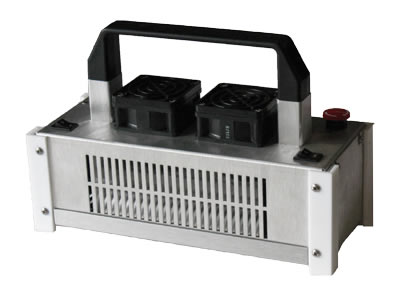 Standard Features
Lightweight, fan-cooled handheld lamp assemblies
Remote power supply with 8' cable to lamp assembly for maximum operational ease and lamp portability.
120V/60Hz power *
Low-cost, dependable power supply
Model
Total Wattage
Arc length
Reflector Geometry
Power
requirements
Power Supply Weight & Dimensions**
PC1000
1000W
5"
NON-FOCUSED
120V/60Hz/12A
50lbs 17"x12"x10"
PC1000F
1000W
5"
FOCUSED
120V/60Hz/12A
50lbs 17"x12"x10"
PC1500F
1500W
5"
FOCUSED
120V/60Hz/15A
50lbs 17"x12"x10"
---
Examples of finished products cured with the Porta-Cure: