American Ultraviolet High-output DC Series HVAC UVC germicidal fixtures can be mounted in various configurations for optimum pass-by air decontamination and/or to irradiate cooling coils and drain pans. Lamps and electronics can be accessed from outside the duct or plenum. "Green" lamps (contain 8mg of mercury) extend inside to span supply ducts and/or cooling coils.
DC Series HVAC air duct system fixtures are offered in two and four-lamp configurations that can be mounted singly, in built-up banks, or in parallel configurations in a variety of locations, including coils, drain pans, ductwork, mixed air plenums and exhaust systems. The DC series conforms to UL Std 1598, and is certified to CSA Std C22.2#250.
American Ultraviolet DC
Series Benefits
Improves Indoor Air Quality (IAQ) by serving as a UV-C air sanitizer, reducing bacteria, viruses and mold that either grow or pass through the air handling systems. Reduces the risk of cold, flu, allergies and other illness associated with air handling systems
"Green"lamps contain = 8mg of mercury
Two-year guarantee on lamps with only 20% decrease in output over two years
Five-year, non-prorated warranty on the ballast
Continuously cleans coils, drain pans, plenums and ducts, eliminating costly cleaning programs and the use of harmful chemicals and disinfectants
Reduces HVAC energy costs by restoring heat transfer and net cooling capacity
Produces no ozone or other secondary contaminants
To learn more about DC Series HVAC UV light sterilization fixtures, including technical specifications, and independent IES Test results, please visit our technical library where you can download and print literature.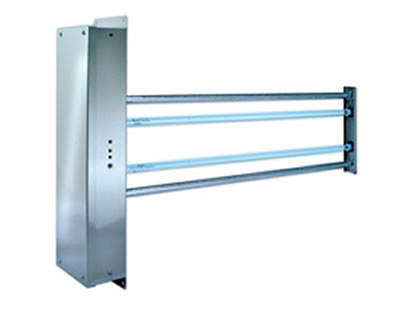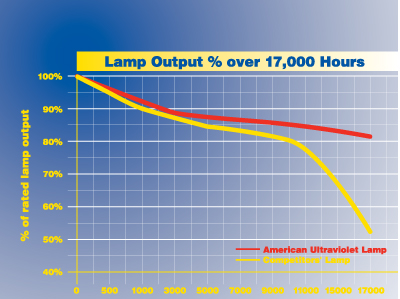 Prolonged, direct exposure to UVC light can cause temporary skin redness and eye irritation, but does not cause skin cancer or cataracts. American Ultraviolet systems are designed with safety in mind and, when properly installed by a professional contractor, do not allow exposure to UV irradiation and allow for safe operation and maintenance.