High-output NC (NEMA 4X) Series germicidal fixtures feature the externally mounted design of the American Ultraviolet DC Series, however, they include weather-resistant NEMA 4X housing that makes them ideal for outdoor HVAC units. They are available in one-lamp and two-lamp configurations and can be installed vertically or horizontally. Only the lamp(s) and input power wiring penetrate the HVAC unit, while ballast and lamp harness remain external (housed inside the NEMA 4X enclosure).
The NC (NEMA 4X) Series fixtures contain American Ultraviolet's high-output "green" lamps (≤ 8 mg of mercury; 2-year guarantee), and a five year ballast (non-prorated 5-year warranty) in a NEMA 4X housing specifically engineered for rooftop units and other AC systems mounted outdoors. The NC Series delivers the best and longest-lasting UVC performance available. It has been independently tested to deliver greater output (produces 11.7 µW/cm2 per linear inch of lamp arc length at 1 meter) than any other ultraviolet device under HVAC operating conditions (45° F at 400 fpm air velocity), and the increased output of American Ultraviolet lamps provide the most reliable germicidal performance and longest service life.
HVAC NC Series Benefits
Improves Indoor Air Quality (IAQ) by reducing bacteria, viruses and mold that either grow or pass through the packaged equipment. Reduces the risk of cold, flu, allergies and other illnesses associated with HVAC systems.
High-output, "green" lamps contain ≤ 8 mg of mercury
Two-year (17,000 hours) guarantee on lamps with only 20% decrease in output over the two years
Five-year non-prorated warranty on the ballast
Reduces HVAC energy costs by restoring heat transfer and net cooling capacity
Continuously cleans coils and drain pans, eliminating costly cleaning programs and the use of harmful chemicals and disinfectants
Produces no ozone or other secondary contaminates
Quick and easy installation
To learn more about NC Series fixtures, including technical specifications, and independent IES Test results, please visit our technical library where you can download and print literature.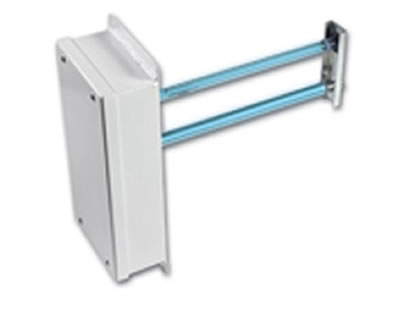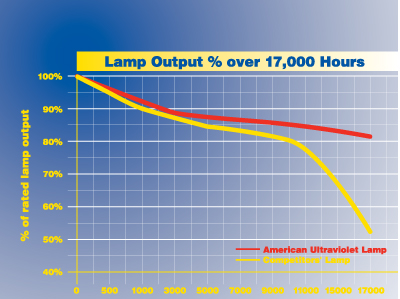 Prolonged, direct exposure to UVC light can cause temporary skin redness and eye irritation, but does not cause skin cancer or cataracts. American Ultraviolet systems are designed with safety in mind and, when properly installed by a professional contractor, do not allow exposure to UV irradiation and allow for safe operation and maintenance.