Decades of Experience with Food Protection
American Ultraviolet has been designing and manufacturing complete UV sterilization solutions to prevent food contamination since 1960, so there's not much we haven't seen, or manufactured a solution for.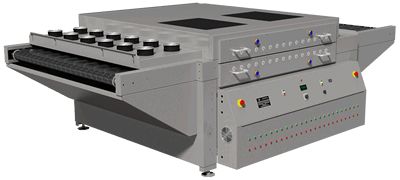 Our breadth of food safety equipment is unmatched, and our ultraviolet sterilization solutions are unequaled, because, unlike other UV manufacturing companies, we've had an extended amount of time to gain the knowledge and proficiency needed to deal with the unique requirements and challenges associated with product sterilization and surface sterilization.
Air, Surface & Liquid Applications
Whether your application calls for UV to treat air, surfaces, or liquids, American Ultraviolet has a standard, or custom, ultraviolet disinfection solution, so there's no need to seek out multiple UVC suppliers if you have the need for Ultraviolet food sterilization in different parts of your operation. Using our science-based approach, we simply calculate for the appropriate variables in each type of application, and provide the most appropriate solution designed to protect food from contamination.
Custom Solutions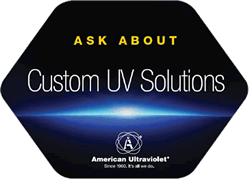 UV sterilization is used to destroy mold and bacteria on the product, and from packaging material, and has been shown to dramatically extend the food shelf life of certain products. Though many of our standard products
serve this purpose, on many occasions since 1960 customers have come to us with truly unique situations that require truly unique UVC solutions, which is exactly why American Ultraviolet has a full staff of experienced engineers. Our team specializes in the design, mechanical, and electrical aspects of all our projects, enabling us to consistently provide our customers with solutions based around their unique needs and situations. And, because we have in-house engineering, fabrication, assembly, and testing, projects that require custom solutions do not come with unnecessarily long lead times, or astronomically high prices.
American Ultraviolet stands behind all our value-oriented standard and custom products. And we're very proud that our customers frequently, and consistently, let us know how our insightful solutions have led to remarkable results.
---
To learn more about using UVC for Food Safety, and Food and Beverage equipment, including technical specifications, please visit our technical library where you can download and print literature.
Prolonged, direct exposure to UVC light can cause temporary skin redness and eye irritation. American Ultraviolet systems are designed with safety in mind and, when properly installed by a professional contractor, do not allow exposure to UV irradiation and allow for safe operation and maintenance.